AFFORDABLE TAXI SERVICES IN OOTY

If you are looking to travel around ooty, Then we are the best choice
BEST  TAXI SERVICES IN OOTY
Ooty heritage tours and travels are considered one of the most well-liked online taxi booking services.

When you choose us for your cab booking requirements, we offer you premium services, and most importantly, high reliability.

We provide convenient and frugal taxi booking in Ooty to enjoy the modern era and recreational centers with your loved ones in the most comfortable way.

Ooty Heritage Tours and Travels offer Ooty Local Cab services at affordable prices around the city.
 TOURIST ATTRACTIONS IN OOTY
Doddabetta
Doddabetta
The Highest Peak in Nilgiris, Offers A beautiful Panoramic view of the hill ranges, Plateaus and plains around. One can also trek up to the peak which is 2623 metres above sea level.
Pykara
Pykara
An hour's drive from Ooty on the Mysore Road. Well protected fenced sholas, Todas Settlements, Undistributed grassy meadows and also a good wildlife habit. Lake is open to visitors for boating. Enroute followed by sixth mile, ninth mile & Pykara water falls
Rose Garden
Rose Garden
One of the largest rose garden in the country with over 300 varieties of rose plants and recognized by the world federation of rose societies as "Garden Of Excellence".
Botanical Garden
Botanical Garden
Botanical Garden Sprawling over 50 acres, was laid in 1847 by the Marquis of Tweeddale. A variety of exotic and ornamental plants adorn this garden which is the venue for the Flower show held in May every year.
Ooty Lake & Surrounding Areas
Ooty Lake & Surrounding Areas
This artificial lake was constructed in 1824 by John Sullivan. Boating facilities are available every day. Deer Park, Toy train, Horse riding & Children's park with fun games is also there for the visitors.
Tea Factory
Tea Factory
One can visit and see the process of the tea being manufactured in various grades and quality. One can also purchase varieties of fresh tea at the factory.
COONOOR TOURIST ATTRACTIONS
Valley View
Valley View
The second Largest valley in Asia. A Birds-eye view of little villages and large landscapes
Sims Park
Sims Park
Established in 1874. The park covers an area of 12 hectares. It has beautiful lawns and an extensive collection of trees and plants. It also has a small boating pond.
Lambs Rock
Lambs Rock
The rock is situated on a high precipice and commands a good view of Coimbatore plains. the rock is named after captain Lamb who made a narrow path to this spot.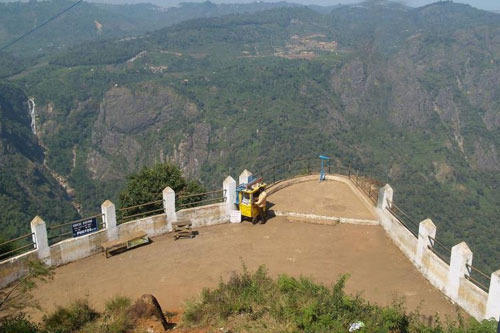 Dolphins Nose
Dolphins Nose
The Nose is the unique rock of tremendous proportions that looks like a dolphin's nose.
Tea Garden
Tea Garden
An opportunity to walk through and have a breathtaking experience of Garden and fresh tea plantations.
CAR PRICING
| CAB Type | PRICES | SEATING CAPACITY | Parking Charges | Time Limit | Hotel Pick & Drop |
| --- | --- | --- | --- | --- | --- |
| ETIOS / SWIFT | 1800 | 4+1 | No | 9.00 a.m. – 6.00 p.m. | Yes |
| XYLO | 2200 | 7+1 (Forward seat) | No | 9.00 a.m. – 6.00 p.m. | Yes |
| TAVERA | 2200 | 9+1(Forward seat) | No | 9.00 a.m. – 6.00 p.m. | Yes |
| INNOVA | 2500 | 7+1(Forward seat) | No | 9.00 a.m. – 6.00 p.m. | Yes |
| INNOVA CRISTA | 2700 | 6+1(Forward seat) | No | 9.00 a.m. – 6.00 p.m. | Yes |
| Tempo Traveller/ Coach | 3200 | 12+1/20+1(Push Back Seat) | No | 9.00 a.m. – 6.00 p.m. | Yes |
Outstation Pick Up & Drop Tariff
| Places | Etios / Swift | Xylo | Tavera | Innova | Tempo Traveller |
| --- | --- | --- | --- | --- | --- |
| Coimbatore Airport & Railway Station | Rs. 2200 | Rs. 2800 | Rs. 2800 | Rs. 3400 | Rs. 4800 |
| Mettupalayam | Rs. 1600 | Rs. 2200 | Rs. 2300 | Rs. 2500 | Rs. 3200 |
| Mysore | Rs. 3600 | Rs. 5500 | Rs. 5500 | Rs. 6500 | Rs. 9000 |
| Bangalore | Rs. 7000 | Rs. 9800 | Rs. 9800 | Rs. 10400 | Rs. 15500 |
| Kodaikannal | Rs. 6000 | Rs. 7200 | Rs. 7200 | Rs. 9400 | Rs. 12500 |
Our Exclusive Prices For Touristers
| CARS | Toyota Etios A/C | Swift Dzire A/C | Mahindra Xylo A/C | Tavera A/C | Innova A/C |
| --- | --- | --- | --- | --- | --- |
| Inclusion Kms | 250 kms | 250 kms | 250 kms | 250 kms | 250 kms |
| Every Extra 1 Km | 11.00 |  11.00 |  12.50 |  12.50 |  13.00 |
| Driver Bata | 300.00 | 300.00 | 300.00 | 300.00 | 300.00 |
| Total Amount | Rs.3,050.00 | Rs.3,050.00 | Rs.3,425.00 | Rs.3,425.00 | Rs.3,550.00 |
| CARS | Innova Crysta A/C | Traveller A/C (14 Seater ) | Traveller Non- A/C (14 Seater) | Coach A/C (20 Seater) | Coach Non-A/c (20 Seater) |
| --- | --- | --- | --- | --- | --- |
| Inclusion KMs | 350 kms | 350 kms | 350 kms | 350 kms | 350 kms |
| Every Extra 1 Km | 16.50 |  17.00 |  15.00 |  29.50 |  18.00 |
| Driver Bata | 350.00 | 400.00 | 400.00 | 400.00 | 400.00 |
| Total Amount | Rs.6,125.00 | Rs.6,350.00 | Rs.5,650.00 | Rs.10,725.00 | Rs.6,700.00 |
Recent Questions and Answers