Ooty Tour Packages for 3 Days 2 Nights
Are you ready to embark on a journey to the picturesque hill station of Ooty, nestled in the lap of the Nilgiri Mountains? Ooty Heritage Tours and Travels is the leading travel agency for booking affordable sightseeing 3 Days 2 Nights Ooty tour packages.
If you're seeking a break from the hustle and bustle of city life and yearning for a tranquil escape, Contact us immediately for hassle-free tour packages for 3 days to Ooty for a beautiful trip with your loved one, family, or friends.
We take care of all the logistics, including transportation, accommodation, and guided tours, so you can relax and enjoy your vacation. Contact us today!
Our Services
Our Best Service for Your Journey
Tour Highlights
Highlights of 3 days 2 nights Ooty Tour Packages
Are you yearning for a moment of escape from a hectic city life? Our 3 days /2 night Ooty tour packages are thoughtfully curated for those seeking a quick but immersive experience in the lap of nature.

Immerse yourself in the breath-taking landscapes of Ooty, featuring lush greenery, tea gardens, and serene lakes.

Whether you are looking for 3 days 2 nights family tour, group tours, friends tours, corporate tours or couple tours, we are the best in town for all your needs.

We provide the premium Ooty Tour packages with transportation from bus stand, airport, and railway station to special resort, luxury hotels, foods and best sightseeing spots.

We also offer you the convenience of online booking by just filling the enquiry form from your place.
Day-wise Itinerary for Ooty 1 night 2 days Tour packages
Explore Our Diverse Tour Offerings
We will be responsible for pick-up and drop-off at the airport, railway station, or bus stops(Additional Fee Apply for Taxi)
We Provide accommodation in 3-star hotels, food, and sightseeing by Taxi / Cab
Also offer Candle light dinner arrangements with Veg or Non-arrangements[optional], Horse Riding, tea estate view(Additional Charge Applied!)
Toll parking and driver allowances are included.
For amazing family and group tour packages, our rates are tailored to the size of your squad! Children under seven go absolutely FREE, while for children above seven years, we charge Rs. 1000 per child.
Expenses of personal nature.
entrances & guide charges.
Travel Insurance
GST
Personal expenses such as snacks and water are not covered.
Any other items/services not mentioned in " Inclusions ".
Our customers are all smiles! Join With Us
Professional service at very reasonable cost, highly recommend jawahar for sightseeing Ooty, neat cars and professional drivers, far better compared to other travels and customise according to your needs and very flexible.
Excellent tourism trip by Jawahar! Very humble, kind and helpful
It was a pleasant drive……we enjoyed his driving skills….
Swetha Baskaran
2022-10-15
Best Driver Jawahar with lots of historical knowledge. Guides as per the tourist requirements. Best Guide Cum Driver. The Best👍🏻
Initially I have searched so many travels like make my trip, Agoda and other travels cabs for Ooty site seeing. Finalised heritage tours. I spoke to The heritage driver jawahar. He is a very nice person and guided me very clearly about Ooty and he has planned my 2d/3d Ooty trip from Coimbatore airport to Ooty and back to Coimbatore. He covered almost all places very nicely without any time delay and problems. He is always in time. His is very professional driver and very familiar with all places in ooty. I am very with the tour. I strongly recommend driver jawahar heritage tours. My suggestions is that people who are planning to visit Ooty better to contact heritage tours they will guide u in all aspects. thank u jawahar
It was a nice experience traveling with them.. Driver Sandesh Was a nice guy and was friendly all the way..definitely recommended.
I had planned a trip to ooty and ooty heritage tours and travels took care of our local commute and sightseeing needs. Very professional and excellent service. Best experience..
Vivek Shrivastva
2022-10-08
It was a great experience with ooty heritage tours and travels, first Mr Jawahar who got me the best honeymoon package, and co ordination with me till I reached ooty , then our driver and guide Mr Praveen who was really good for 2 days sightseeing from pick from bus stop guided us very well and helped us to chose the right things to purchase them Mr Vikram on 3rd day and 4th day till dropping us back , was really good and also the candle light dinner and the wedding photo with frame given to us was excellent thanks again for everything guys great hospitality from you right from pick up , to stay and sightseeing and purchasing and dropping thanks for everything Mr Jawahar Mr Praveen Mr Vikram Thanks guys
Avrel Sujan Fernandez
2022-10-08
Great experience with the Ooty local sight seeing and great service provided by Ooty Heritage Tours and Travels
Sridhar Rajendran
2022-10-08
One of the best agency for honeymoon packages, safety and best in one resort ,food, view cab all are fantastic , hotel staffs drivers behaviour all are good thank u Mr paul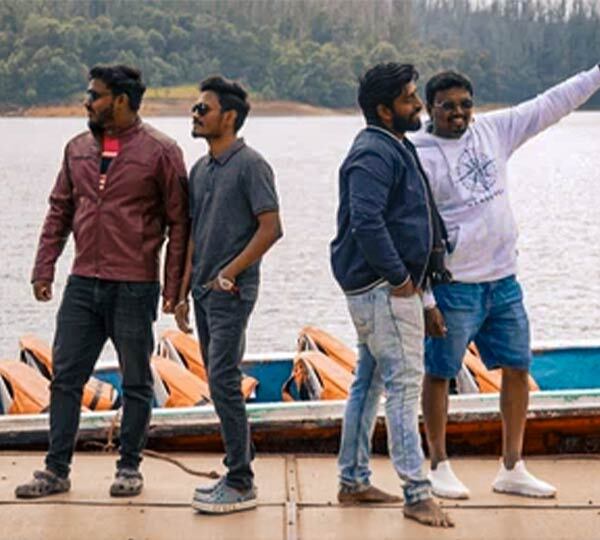 FAQ
Frequently Asked Questions
Don't Miss Out! Book Your Tour!
Looking for 3 Days Ooty Tour Packages with Price & Itineraries?
We offer custom packages to suit your preferences, ensuring you get the most out of your 3-day adventure in Ooty.
Exciting Deals on Tailored Ooty Tour Packages for 2 Nights 3 Days
If you're looking for a quick getaway from your buzzing city life? Ooty Heritage Tours and Travels is the one-stop solution for all your travel needs. We prioritize your comfort, safety and convenience to embark on an enchanting journey with our 2 nights 3 days Ooty Tour Packages.
We provide a complete service like food, accommodations, sightseeing, and a tour guide for pickup/drop, and end of your tour, we present you with homemade chocolates.
Explore our exclusive Ooty Tour Packages, designed for different durations including 2 days / 1 night, 3 days / 2 nights, 4 days / 3 nights, 5 days / 4 nights, and customizable options to suit individual preferences. We also offer packages originating from different cities like Chennai, Bangalore, Coimbatore, Mysore, and more.
Best Time to Visit Ooty: Experience the Enchanting Beauty
Ooty, the Queen of Hill Stations, offers a magical escape throughout the year. However, the best time to visit depends on your preferences
1. Summer Bliss (April to June):
Ideal for those seeking pleasant weather.
Daytime temperatures range from 15°C to 25°C (59°F to 77°F).
Perfect for outdoor activities and sightseeing
2.Monsoon Serenity (July to September):
Witness lush green landscapes after moderate to heavy rainfall.
A quieter time for tourists with affordable accommodations.
Recommended for those who enjoy the misty charm of the hills.
2. Self-Drive Adventure:
If you prefer the freedom of the open road, you can drive from Coimbatore to Ooty. The distance between the two cities is approximately 86 kilometers, and the journey takes around 3 to 4 hours.
3.Post-Monsoon Magic (October to November):
Enjoy the refreshing weather after the monsoon retreats.
Vibrant landscapes and ideal conditions for outdoor exploration.
4.Winter Wonderland (December to February):
Experience a colder climate, with temperatures ranging from 5°C to 15°C (41°F to 59°F).
Perfect for those who appreciate chilly weather and mist-covered landscapes.
Your Gateway to Enchanting 2 Nights 3 Days Ooty Tour Package
Ooty Heritage Tours and Travels is your trusted travel companion offering affordable and family-friendly packages according to your needs. We take pride in curating unforgettable journeys that allow you to experience the mesmerizing beauty of Ooty, also known as the Queen of Hill Stations. Let us take you on a magical expedition filled with breathtaking landscapes, picturesque lakes, and a chance to create cherished memories with your loved ones.
Our Unbeatable Offers and Deals:
Personalized Itineraries:
At Ooty Heritage Tours and Travels, we understand that every traveler has unique preferences and interests. Our team of experienced travel experts crafts customized itineraries, ensuring that your Ooty tour is tailored to meet your specific needs and desires.
Handpicked Accommodations:
We believe in providing our guests with the best possible experiences. Our Ooty tour packages include handpicked accommodations that offer comfort, convenience, and an opportunity to embrace the serene surroundings.
Hassle-Free Travel:
Leave the logistics to us! With our 3 days Ooty Tour Packages, we take care of your travel arrangements from your preferred pickup location. However, please note that an additional fee may apply for the pickup and drop-off at your doorstep.
Exciting Activities:
Adventure seekers will find a plethora of activities to indulge in. Whether trekking in the lush hills, boating in serene lakes, or exploring the tea gardens, our Ooty tour packages offer something for everyone.
Whether you are searching for a family tour package, planning an Ooty honeymoon, or for a weekend getaway to Ooty from Coimbatore with your friends, you will find the right trip options here. Browse through our range of curated tour packages to Ooty for 1 day, 2 days/1 night, 3 days/2 nights, 4 days/3 nights, and 5 days /4 nights, and select the one that best matches your preferences. If you seek a more personalized experience, our team will be delighted to assist you in creating a bespoke package tailored to your needs at competitive costs. In addition, check out Our Honeymoon Tour in Ooty From various cities including Coimbatore, Bangalore, Chennai, Mysore, Hyderabad, Salem, etc.