Ooty, the "Queen of Hill Stations," is a captivating destination for couples embarking on their honeymoon. Nestled in the Nilgiri Hills of Tamil Nadu, India, Ooty offers a perfect blend of natural beauty, colonial charm, and a cool, pleasant climate. To make your romantic journey truly unforgettable, here are the must-visit places in Ooty during your honeymoon:
Ooty Botanical Gardens
The monsoon season in Ooty typically begins in June and extends through September. During this time, the region experiences moderate rainfall, refreshing the land and providing a welcome respite from the heat. The air is filled with the earthy scent of wet soil, and the rain-kissed surroundings come alive with vibrant greenery
Ooty Lake
A honeymoon in Ooty is incomplete without a visit to Ooty Lake. Rent a paddleboat or rowboat and leisurely drift across the serene lake. The picturesque landscape, surrounded by eucalyptus trees and Nilgiri hills, creates a romantic ambiance that's perfect for sharing sweet moments with your loved one.
Rose Garden:
With more than 20,000 varieties of roses in bloom, Rose Garden is a paradise for lovers. Stroll hand-in-hand through this aromatic haven, where vibrant colors and fragrances will add a touch of romance to your visit.
Doddabetta Peak
For breath-taking panoramic views of Ooty, make your way to the Doddabetta Peak. Witness the sun setting over the rolling hills, and wrap yourselves in each other's arms as you enjoy the cool, misty breeze.
Glenmorgan
Glenmorgan is one of the top romantic places in Ooty. If you're considering a honeymoon filled with enchantment and awe in Ooty, be sure to include Glenmorgan in your itinerary. Situated just on the outskirts of the town, Glenmorgan is a captivating destination featuring a glistening lake, lush eucalyptus forests, and a charming village.
Our Popular Hotels
20K+ Reviews by Travellers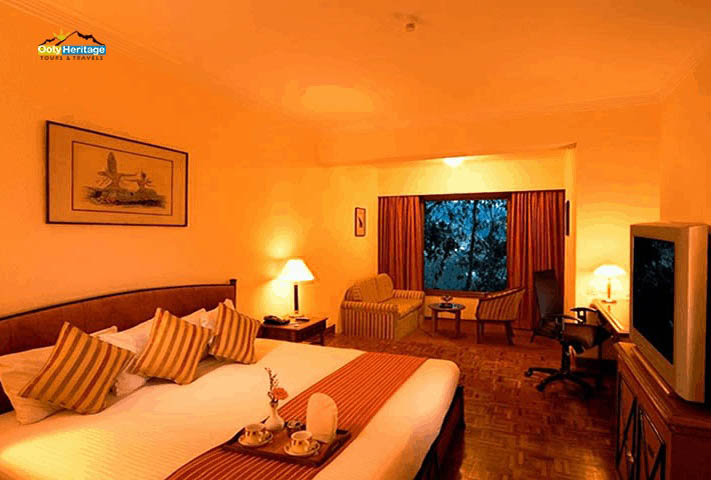 Hotel Gem Park

Sheddon Rd, Pudumund, Ooty, Tamil Nadu 643001
Nilgiri Mountain Railway
Embark on a nostalgic journey aboard the Nilgiri Mountain Railway, a UNESCO World Heritage site. This charming toy train will take you through lush tea gardens and enchanting landscapes, offering a delightful experience perfect for sharing with your special someone.
Mudumalai National Park
Experience the ethereal beauty of the Nilgiris by visiting the Mudumalai National Park. Take a safari together to spot diverse wildlife, including elephants, tigers, and deer. The close bond you'll share during this thrilling adventure will make your honeymoon all the more memorable.
Ooty Tea Gardens
Take a tour of one of the local tea factories to witness the tea-making process up close. Sip on freshly brewed tea while you learn about the history and art of tea cultivation. The aromatic tea estates provide a tranquil setting for a leisurely walk and intimate conversations.
Pykara Waterfalls
A visit to the Pykara Waterfalls is a must for couples who want to relish the beauty of nature. The cascading falls, surrounded by dense forests, create a picture-perfect setting for romantic picnics and photographs.
Avalanche Lake
Avalanche Lake is renowned for its pristine and unspoiled natural beauty. Surrounded by lush greenery, dense forests, and mist-covered hills, the lake is a paradise for those seeking tranquility and stunning landscapes. Couple can also enjoy paddle boating on the lake, making it a romantic experience to cherish.
Emerald Lake
Situated amidst tea plantations, the Emerald Lake offers seclusion and tranquility. You can take a scenic drive around the lake, have a romantic picnic, or simply enjoy the serenity of the surroundings together.
St. Stephen's Church
A quiet, contemplative visit to the serene St. Stephen's Church is a perfect way to add a touch of spirituality to your honeymoon. The neo-Gothic architecture and peaceful ambiance create a soothing atmosphere for couples.
Remember, the most important aspect of your Ooty honeymoon is not just the places you visit, but the moments you share together. Create memories that will last a lifetime by taking the time to truly savor each other's company amidst the breathtaking beauty of Ooty. This charming hill station offers an idyllic backdrop for your romantic journey, making it a destination you'll treasure forever.
Check Our Top Sightseeing Places from Various Cities