Are you planning a trip to Ooty, the picturesque hill station in the Indian state of Tamil Nadu? Ooty, also known as Udhagamandalam, is renowned for its stunning natural beauty, lush tea gardens, and a pleasant climate throughout the year. To make the most of your Ooty visit, here's a list of must-visit sightseeing places in this charming hill station:
Leaving Footprints in New Places and Hearts along the Way!
Ooty Botanical Gardens
Established in 1848, these gardens are a treat for nature lovers. You can explore a wide variety of plants, flowers, and trees. The highlight is the fossilized tree trunk, believed to be more than 20 million years old.
Ooty Lake
A picturesque man-made lake surrounded by eucalyptus trees and a boathouse. You can enjoy boating, paddle boating, and even a mini-train ride here..
Doddabetta Peak:
The highest point in the Nilgiris, this peak offers breathtaking panoramic views of the surrounding landscape. It's a great spot for a bit of trekking and photography.
Our Popular Hotels
20K+ Reviews by Travellers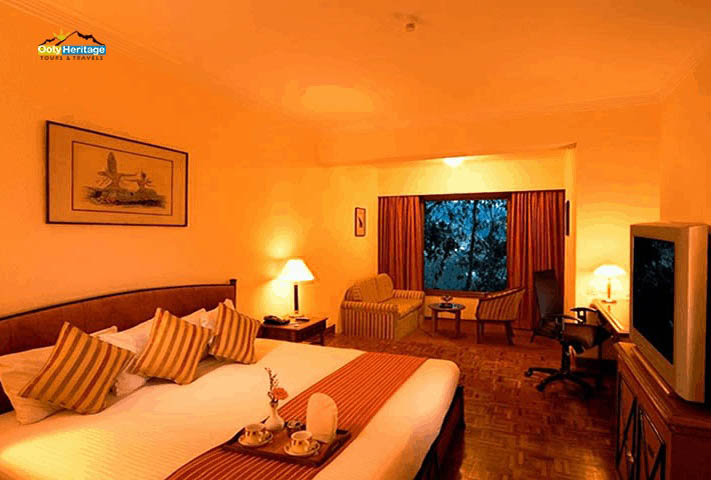 Hotel Gem Park

Sheddon Rd, Pudumund, Ooty, Tamil Nadu 643001
Rose Garden
Known as the "Queen of Gardens," this place is a visual delight with thousands of varieties of roses. It's in full bloom during the summer months.
Nilgiri Mountain Railway
A UNESCO World Heritage Site, this historic toy train offers a unique way to experience the Nilgiri Hills, passing through tunnels, bridges, and stunning landscapes.
Tea Gardens
Ooty is known for its tea plantations. Take a guided tour of a tea factory and enjoy a cup of freshly brewed tea while enjoying the scenic views
Ooty Rose Garden
This garden houses a variety of roses, making it a delightful place for flower enthusiasts. It's especially beautiful in summer when the roses are in full bloom.
Pykara Lake and Waterfalls
Located about 21 kilometers from Ooty, Pykara is known for its serene lake and cascading waterfalls. You can take a boat ride in the lake and enjoy the natural beauty.
Avalanche Lake
This offbeat destination is perfect for nature lovers and those seeking tranquility. It's located about 28 kilometers from Ooty and offers trekking and picnic opportunities.
Deer Park
Get up close with nature at the Ooty Deer Park. It's a great place to spot various species of deer and other animals in a natural habitat.
St. Stephen's Church
This colonial-era church is known for its Gothic architecture and beautiful stained glass windows.
These are just a few of the many attractions you can explore in Ooty. The hill station has something to offer every traveller, whether you're interested in nature, or history, or just want to relax in the lap of nature. So, pack your bags and get ready to experience the beauty of Ooty!
Check Our Top Sightseeing Places from Various Cities